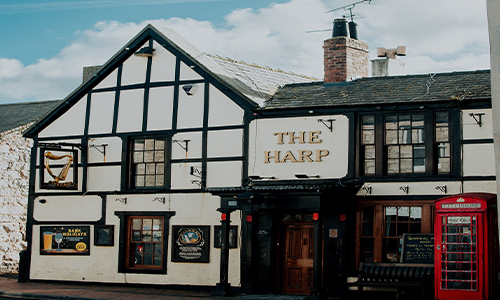 Pubs & Resturants
We will make the public areas clean and inviting for your pub and restaurant from the entrance to the dining area, while performing safe, hygienic deep cleans of the kitchen and food preparation areas. We'll also keep washrooms pristine and stocked for staff and customer comfort. 
Sistermatic Cleaning Ltd. your experienced Pub and Restaurant Cleaning Company
Our extensive experience in cleaning workspaces of all kinds to the highest standards of hygiene makes Sistermatic Cleaning Ltd. the ideal cleaning choice for any pub or restaurant.
Specialists in Bar and Restaurant Cleaning
We appreciate the ongoing demand to maintain high standards of hygiene, both in front of house and in the kitchen, and have developed expertise and practical solutions that can guarantee the results you need. Our continued investment in equipment and staff training has helped us to maintain a leading edge within the competitive arena of restaurant cleaning. Simply Cleaning provide a comprehensive range of bar and restaurant cleaning services with standards of professionalism and customer support that others cannot match.
A complete Pub and Restaurant Cleaning Service
Simply Cleaning can provide daily contract cleaning for bars, restaurants, pubs and other food service establishments, we can also supply a range of specialist services such as kitchen deep cleaning, upholstery and carpet cleaning using our truck mounted Prochem Legend SE machine. Bars and restaurants can accumulate a large about of dust and debris, which is made up of dirt and food particles. Ensuring your pub and restaurant is kept clean and tidy is a key component to not only your hygiene standards, but also the health & safety of your staff.    
Our Pub and Restaurant Cleaning Services Include:
InternalFloor cleaning and maintenance
Machine cleaning and degreasing
High-level cleaning
Hygiene cleaning
Lighting
Equipment cleaning
Staff areas
Public areas
Carpets
Internal window cleaning
Removal and disposal of refuse from your establishment
Cleaning public and staff washrooms
Emptying and sanitising rubbish and recycling bins
Supplying and restocking washroom consumables
Cleaning office equipment and back room areas
Cleaning stainless steel and other special surfaces
Floor cleaning, mopping, drying, sweeping refinishing and polishing
Carpet cleaning
How To Book Our Professional Cleaning Services
If you are looking to book your next clean, it's never been easier.  There are two simple ways to schedule an appointment with our team:
Simply contact Maria on 07763 904885 or book through our easy-to-use online Contact Us form.