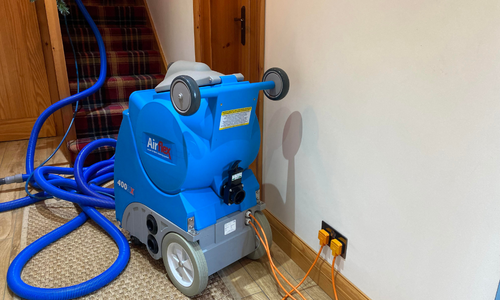 Carpet Cleaning
Whether you're at home or at work, carpets are heavily used and prone to collecting dust, dirt and allergens – not to mentioning staining easily too. This not only can look unappealing, but it makes the carpet the perfect place for dirt to accumulate and thrive. As a result, let Sistermatic Cleaning Ltd. help you get your carpet or rugs looking as good as new in no time!
What to expect from our carpet cleaning service?
Carpet cleaning is quite intricate work and should be left to the professionals, which we happen to be.  Our specialist carpet cleaners are fully qualified and are skilled in cleaning and restoring carpets back to their original condition.  If you require your carpet to be cleaned promptly, our specialist carpet cleaners can refresh your carpet in just a few hours. We are available on weekends and bank holidays, anytime, to cater to your every need – especially if you are a business and require work to take place whilst people aren't in the workplace.
We deep clean the carpets professionally using the necessary specialised equipment which are capable of removing enough liquid away from your carpets in order to avoid any mould or damp. Our years of experience and knowledge of various cleaning agents and specific cleaning processes means that water marks, colour bleeding and creasing don't damage your carpet.
You'll be pleased to know that the products that we use are highly rated and approved by regulators, to ensure they are environmentally friendly and safe for all – pets and humans alike.
Our expert carpet cleaning service includes, but is not limited to:
1. Vacuuming          2. Grooming
3. Rinsing                 4. Drying
We also provide rug cleaning services so you can have your beloved Oriental or any other rug deep cleaned to a professional standard with us.
Many customers combine this service with end of tenancy cleaning, deep cleaning or after builders cleaning.  It can also be booked as a separate service.  We recommend having your carpet deep cleaned every six months to avoid unnecessary dirt and dust build-up.
Areas covered by our carpet cleaning service
We are able to offer our services to any property within Bedfordshire, Buckinghamshire & surrounding areas.
We are proud to provide the finest hard floor cleaning services and pride ourselves on getting the job done to the highest standard possible. So, whatever you need us to do, we are here to help. If you need urgent help, we are on-hand to send our experienced professional cleaners to your address – home or commercial property – and provide a prompt service.
Pricing:
Pop over to our PRICES page to see our carpet cleaning pricing guide.
How To Book Our Professional Carpet Cleaning Service:
If you are interested in our high-quality carpet cleaning service for your home or commercial premises, please get in touch today on 07763 904885 or simply complete our quick and easy Contact Us form.  We will schedule an appointment to come and see the job in person and provide you with a free no-obligation quote.
We Offer:
100% satisfaction guarantee
Flexible booking slots
Professionalism
Punctuality
Outstanding service