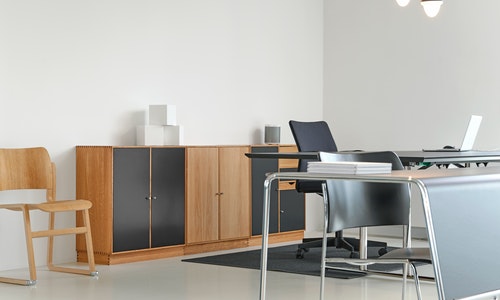 Offices
A clean office is imperative to staff health and wellbeing and can minimise staff sick days. A wellkept office area gives a  professional appearance to both staff and visitors to the building, as well as increasing staff motivation and productivity.
Delivering the highest quality clean every time, with our office cleaning service
A clean office environment has been proven to increase employee happiness and overall productivity, with nobody preferring to work in a dirty and cluttered environment. This is why having your office cleaned regularly is so important. It allows employees to remain focused and reduces staff illness, ultimately increasing efficiency. Sistermatic Cleaning Ltd. is a commercial cleaning company with cleaners who are ready and willing 24/7 to support your business in creating the perfect working environment, allowing you to focus on what really matters.
Sistermatic Cleaning Ltd. has a dedicated team of office cleaners that can tackle all office cleaning needs, providing you with peace of mind. If you are looking for a professional office cleaning company to provide you with an extensive office cleaning service, then you have come to the right place.
We come fully equipped and provide all cleaning products, so you don't need to, saving you time and hassle, whilst allowing you the time to focus on what you do best.  We don't give you a limited time, we work until the work is done and your office, workplace is brought to the highest of standards.
We also offer one-off deep cleaning as well as ongoing monthly services, should you require a regular office clean. All you need to do is contact us and we'll arrange a meeting to discuss your exact needs & time frames.
What to expect from our commercial office cleaning services?
We have an exceptional team of professional cleaners with years of expertise within the industry, delivering fast, affordable and high-quality cleaning services throughout Buckinghamshire, Bedfordshire and surrounding areas. Owing to this breadth and depth of expertise, we offer both generalised commercial cleaning services and more specialised offerings.
As part of our commercial cleaning service, we focus on getting your workplace in tip-top shape and in line with high hygiene standards. When you book us for one of these services, you can expect us to:
Conduct thorough cleaning of toilets and bathrooms, which are notorious for being riddled with stubborn filth, bacteria and grime.
Vacuum, mop and dust to exceptionally high standards throughout your office, reaching every crevice and corner for a truly pristine feel.
Clean all office equipment in a careful and responsible manner, taking all necessary precautions to protect paperwork and electronics.
Deep clean your kitchen space whether that means emptying the dishwasher or cleaning out the cupboards.
Replace bin bags on a regular basis so as to prevent any pests, flies and bad odours from interfering with your office space.
Clean window interiors so that they are shiny and clear, allowing your employees to stay connected with the outdoors, even whilst at their desks.
However, we understand that a good business will want to go above and beyond with their office cleaning, which is why we offer specialised services as extras, including but not limited to:
Commercial office carpet cleaning: Carpets within your office suffer from a build-up of residue, dirt and bacteria, which has the potential to affect your employees' health in many ways. For example, filthy carpets are known to exacerbate the symptoms of allergies and asthma, as well as harbouring countless germs that can cause other illnesses.
Office upholstery cleaning: Other soft furnishings in and around our office also collect bacteria and viruses as well as harmful mould and at worst, dust mites which thrive in uncleaned upholstery! If you have any office furnishings (couches, desk chairs, sofas etc.) that need a thorough clean, we are on hand to help. We use specialist equipment to ensure that your furniture is cleaned to the highest of standards.
High-level cleaning: Unfortunately, when it comes to dust, dirt and germs, out of sight doesn't necessarily mean out of mind, so you should pay great attention to the areas of your office that are out of reach too. We offer specialised high-level cleaning services to make these tasks quick and easy, allowing you to sit back and relax with peace of mind that your office is clean in all spaces, not just the ones you can see.
The Benefits of a Professional Office Cleaning Services
When it comes to professional office cleaning, there are plenty of reasons to get on board with it, and the benefits of such services include:
Hiring a professional office cleaner to revive and refresh your office will naturally have a positive effect on the morale of your staff, since a neater, cleaner and tidier workplace will usually put people in a better mood, boosting the atmosphere in your office and improving collaboration.
Having a high quality clean makes your office environment more appealing to visitors, meaning they will more likely want to return.
Meeting hygiene standards is important, but exceeding them is even better, particularly when it comes to retaining your staff and leaving a positive impression with visitors, whether they are important clients or prospective employees.
Alongside increased mood and comfort comes increased productivity. Employees will be more likely to produce good quality and quick results when in an environment they enjoy being in.
Frequent and thorough office cleaning is essential to maintaining a healthy environment and looking after those who work within it.
With professional cleaning staff doing the work for you, this allows you to relax knowing that your office will be healthy and clean, so you can put all of your effort into your business.
Eliminate pesky odours which build up around the office, either from office pets or smelly lunches.
A daily office clean hugely reduces the chance of illness, equating to improved efficiency. Regular deep cleaning is also highly beneficial especially given today's current climate.
Where Our Office Cleaning Services Are Available
Our expert cleaning team offers a high-quality commercial cleaning service to any premises located in Bedfordshire, Buckinghamshire and surrounding areas.  Once you have scheduled a time and date, we will travel to your business premises and carry out a thorough clean of your building to a high standard.
If you live on the outskirts of Beds & Bucks counties and are unsure whether we cover your postcode, contact us today. We're more than happy to assist you with any queries you may have.
How To Book Our Professional Cleaning Services
If you are looking to book your next clean, it's never been easier.  There are two simple ways to schedule an appointment with our team:
Simply contact Maria on 07763 904885 or book through our easy-to-use online Contact Us form.